With 10 days left until the ServiceNow West Chester Mile at Henderson High School, we are excited to announce that two-time US national champion and 2012 Olympic 1500m Silver Medalist Leo Manzano will join an Elite Men's field that has already made headlines at meets across the country & beyond this summer.
Manzano has been a perennial figure on the US middle distance scene for over a decade, dating all the way back to his first collegiate title as a freshman for the University of Texas Longhorns in 2005. The nine-time All-American and five-time NCAA Champ has had a professional career that has seen make 6 world championship teams, notching PR's of 3:50.64 in the Mile and 3:30.98 in the 1500m while taking two trips to the Olympics in 2008 and 2012. After battling all the way to the line to just miss out on a 3rd trip at this year's Olympic Trials, finishing 4th, Leo will return to the Mile distance that holds fond memories for him. Manzano has competed against internationally acclaimed fields over the distance, winning the Emsley Carr Mile in London back in 2011 in 3:51, while helping Bring Back the Mile in the US with his own Manzano Mile in Austin and appearances at the Festival of Miles in St. Louis.
Joining him is an increasingly talented Men's Elite field, bolstered by some fantastic performances in the Tracktown Summer Series Meet this past Friday in Eugene, Oregon. Returning to the site of this year's Olympic Trials, Colby Alexander took the 1500m win in a race that saw him beat three 2016 Olympians and run 3:34.88, with Kyle Merber running 3:35.83 for 4th and Johnny Gregorek going 3:36.04 for 6th in a meet that was shown live on ESPN. The contingent from the New Jersey/New York Track Club was also represented well by Women's' Elite Miler Ashley Higginson, taking on the steeple for 2nd in 9:42.42 and leading a 1-2 sweep in the event for Team New York in what could be one of her last times running over the barriers (post-race interview here).
While the Women's Elite race has only changed slightly (no more Molly Ludlow or Greta Feldman), the competition between returners like Higginson, Rachel Schneider, & Emily Lipari will look to spur on the likes of Lauren Wallace, Steph Schappert, and the rest of the field to fast times and a few sub-4:30 performances. On the men's side, Manzano's addition sets the stage for some of America's top up-and-coming Milers to test themselves against one of the US's most successful middle distance runners of all time. In a summer where Alexander and the group from NJNYTC have turned on the jets since the Trials, the battle up front is shaping up to have a few runners in the mix for sub-3:55.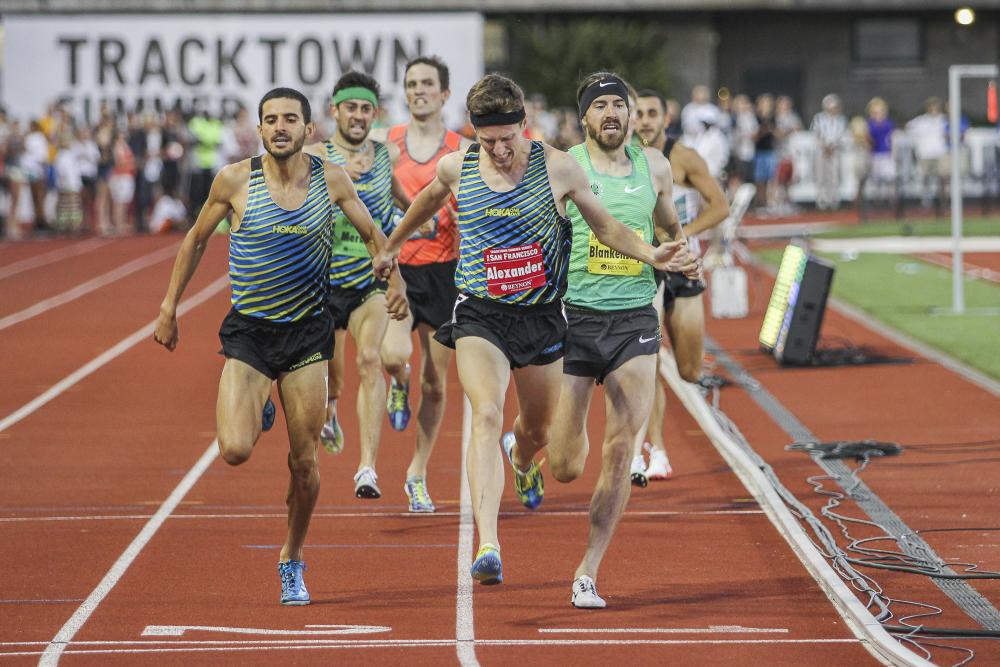 Colby Alexander 1st, Kyle Merber (Green Headband) 4th, Johnny Gregorek (Orange Top) 6th (PC: Dystat)
The entertaining first installment of the Summer Series kicked off what looks to be an exciting two weeks of Mile buildup ahead, with many of our Elite Milers running this Friday night in Raleigh, North Carolina at Sir Walter Miler. Both Sir Walter Miler and our ServiceNow West Chester Mile will be live-streamed on Flotrack, one of the premier media outlets for track & field and a fantastic new addition to our event.
With our Elite fields set, we are getting excited to see the turnout on August 11th! All this week, we will be showcasing some of the great vendors and sponsors who will be on-hand to add to an engaging atmosphere under the lights at Henderson. Also, keep an eye out this week for a piece on our Tuesday Morning AM Workout Group, one of largest organized runs through our store every week, as they gear up for the Mile and provide some insight into what it's like to run with the group.
Check out the updated Elite race lineups below, and stop by all week for a chance to win a free invite to 'Dinner With the Milers' next Wednesday night! Simply purchase any Brooks products and you'll be entered in our raffle for a fun night before the race with some of the fastest & friendliest pro athletes out there.
Come Bring Back the Mile in West Chester with us next Thursday night!
Registration & Information for the 2016 ServiceNow West Chester Mile

Warner Hotel Women's Elite Mile
Anna Willard
Steph Schappert
Emily Lipari
Erin Donohue
Ashley Higginson
Lauren Wallace
Rachel Schneider
Christy Cazzola
Nicol Traynor
West Chester Running Company Elite Men's Mile
Kyle Merber
Mac Fleet
Jack Bolas
Ford Palmer
Travis Mahoney
Colby Alexander
Leo Manzano
Daniel Winn
Reed Connor
Brian Gagnon
Kirubel Erassa
Brandon Hudgins
Johnny Gregorek
Frezer Legesse